The Black Lives Matter march went ahead on Sunday, despite an official cancellation. Attendance included students, teachers and politicians including Long Hair and Avery Ng from the League of Social Democrats.
Photo: Organiser Max Percy delivering the groups petition joined by Avery Ng and Long Hair. Courtesy of Cyril Ma.
Editor's Note: Although the events in this article are in support of Black Lives Matter, please note that Hong Kongers for Black Lives Matter and The Africa Centre are not affiliated.
Hong Kong for Black Lives Matter had over 2,000 confirmed Facebook attendees for their march on Sunday from Chater Garden to the American Consulate to deliver a petition to Consul General Hanscom Smith, but after the deletion of the official Facebook event, less than 20 arrived to brave the rain.
The previous night, international media including NBC had confirmed the event's cancellation and the message was spread among potential protestors.
Nonetheless, small groups began to arrive at Chater Garden around 1:00PM.
The crowd of two dozen were stopped by police halfway and warned against contravening COVID-19 social distancing regulations. A policeman explained that even if protestors kept a physical distance, they would still be considered as gathering for a 'common purpose'. Currently, any gathering in a public space must not have more than eight people with groups kept at a distance of at least two metres.
After a brief period of uncertainty, police compromised with organisers and allowed the protest to continue, under the condition that only eight individuals could protest outside the American Consulate at any given moment. Other attendees were kept behind a police cordon further downhill nearby St. John's Cathedral.
The first group of eight protestors included organiser Max Percy and representatives from the League of Social Democrats, all of whom gave speeches including party chairman Avery Ng and 'Long Hair' Leung Kwok-Hung.
"Down there in Central, all the domestic helpers were gathering in crowds of fifty without a distance of even half a metre but the police will not enforce the law," Long Hair said.
Long Hair's speech also drew parallels between American police brutality and controversial police actions during Hong Kong's ongoing anti-government protests.
"Every life matters. Police Brutality is universal; people around the world have a common goal to fight against police brutality and military brutality" said Long Hair.

"We are protesting against the President of the United States, Donald Trump, who claimed that he will send the troops. He is just noisy. He's got no right, he's got no power to send military forces to suppress the internal turmoil in the USA."
Long Hair ended his speech with call and response chants of 'Black Lives Matter', 'Shame to Police Brutality' and 'Shame to Racial Discrimination'.
However, his 'Every Life Matters' statement in earnest solidarity was considered a faux-pas by some attending, as the phrase and similar ones are perceived to be used as a means of deliberately diluting the focus on the experience of blacks in America and elsewhere. The subtleties of the dialogue may be missed on non-native English speakers not immersed in the cut and thrust of American race politics.
Quinland Anderson, a black school teacher originally from London was one of the few black protestors at the event. "I didn't feel too comfortable," said Anderson in reference to Long Hair's statement.
"But despite whatever people say, if there's an opportunity to make my message clear, I will take that opportunity," he added.
Percy echoed similar thoughts and later told Harbour Times he hopes that the next event could "stay on topic".

"Both issues [Hong Kong and Black Lives Matter] are incredibly important but I wanted to keep them separate," said Percy.
In his petition addressed to American Consul General Hanscom Smith, Percy argued for the power of civil disobedience.
"For an oppressed people that have tried to make their voices heard time and time again, civil disobedience is the only option in the fight for freedom."
Percy's petition also made reference to several prominent civil disobedience movements including the Suffragette movement in 1903 and the Stonewall Riots of 1969 which triggered "a leap forward in LGBTQ+ liberation".
The speech also drew parallels between police and state violence in the Black Lives Matter protests with international events, calling the sight of tear gas, pepper bullets and arresting of press [members] "tactless" and a "hauntingly familiar" sight for Hong Kong viewers.
"Last week, a CNN reporter was arrested on air whilst covering the Minneapolis protest," said Percy.
"There has been footage of reporters being shot at and dispersed with tear gas, dangerously impinging on the constitutional freedom of the press. On 2 June, 2020, two days before the 31st anniversary of the Tiananmen Massacre [,] the US President threatened to deploy military forces on citizens exercising their basic rights of free speech and demonstration…This is historic and frightening, and we must take a stand"
Once the first crowd had dispersed, police allowed the second group of eight protestors to speak outside the consulate. In contrast to the professional political background of Ng and Long Hair, the second group was filled mostly with students.
Many were ex-international school students now studying in universities abroad. They felt that a lot of people in Hong Kong turn a blind eye to racism that happens in the city.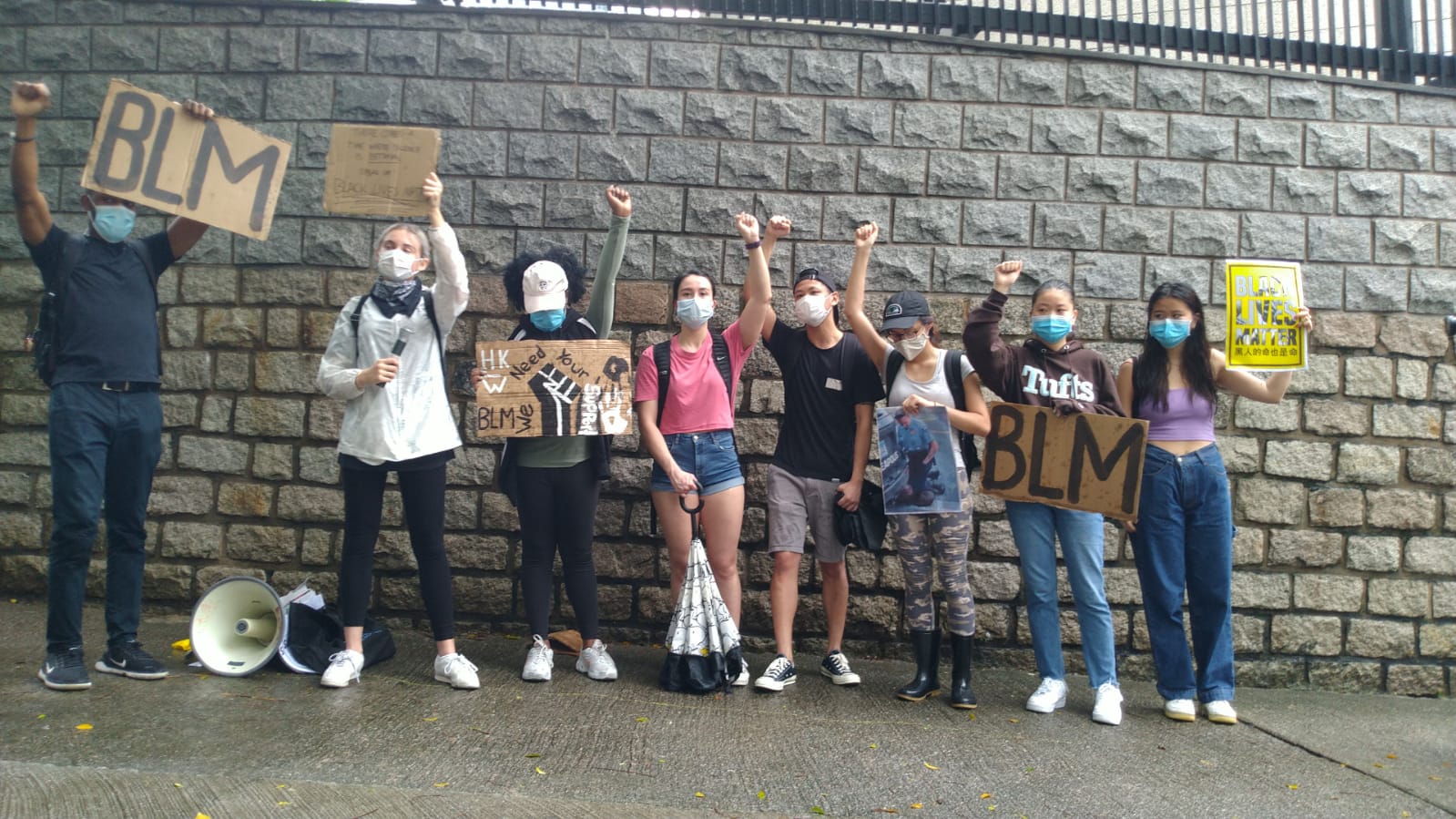 One student who requested anonymity said, "I've seen overt discrimination against black people on the MTR for example," said one student.
"A black person comes to sit down and the other people move away from them. I think people really need to understand that it's not OK".
"We have to actively acknowledge that – because it's not just in America".
It was widely thought that the march had been cancelled after Percy posted a statement on the now-deleted Facebook event saying, "It has come to our attention that due to the number of people trying to use this event to push their own agenda, there are concerns that the event will no longer abide by the terms set by the Hong Kong Police and we have been forced to cancel".
Rebecca J. Merritt, an American expat living in Kowloon, was planning on attending but decided against going when it was unclear whether a Letter Of No Objection had been issued.
"I was really confused about the gathering today for Black Lives Matter. I saw a comment last night that made me assume it was cancelled but I thought people would still gather," she said
"Regardless – It seems the [COVID-19] laws for groups are still in place, so people cannot stand together in groups of eight or more. Since almost 2,000 people said they were attending the event, a letter of no objection had to be obtained … It was unclear that this had not been obtained".
Police dispersed the protest after the final speeches had been made. The protest area outside the US Consulate was then taken over by a pro-Beijing protest.
Printer: R&R Publishing Limited, Suite 705, 7F, Cheong K. Building, 84-86 Des Voeux Road, Central, Hong Kong